Online applications are invited from eligible candidates who are Indian nationals for engagement / training as Act Apprentices under the Apprentices Act 1961 and Apprenticeship Rules, 1992, as amended from time to time, in Workshops and other establishments of South Eastern Railway. Applications must be submitted online and no other mode of submission of the same would be entertained. The training slots are as under: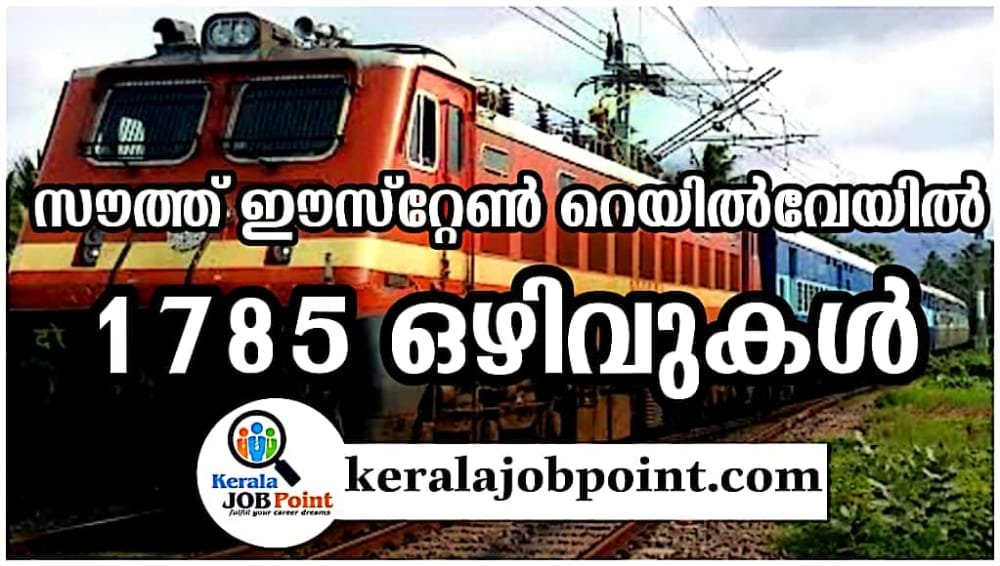 Opening Date: 15.11.2021
Closing Date: 14.12.2021 Closing Time: 17.00 Hrs
◾Vacancies :
Total 1785 Vacancies In South Eastern Railway Name of the Trades Fitter Turner Electrician Welder (G & E) Mechanic (Diesel) Machinist Painter (G) Refrigerator & AC Mechanic Total Electrician Electronics & Mechanic Painter (G) Cable Jointer / Crane Operator…..Click Here Detailed Vacancies
ELIGIBILITY CONDITIONS:
AGE LIMIT:
(i) The candidates should have completed 15 years of age and should not have completed 24 years of age as on 01.01.2022. The age as recorded in the Matriculation certificate, or the Birth certificate shall be reckoned for the purpose only.
Upper age limit is relaxable by 05 years in case of SC / ST candidates, 3 years in case of OBC candidates and 10 years for Physically Handicapped candidates.
(iii) Upper age limit is relaxable by additional 10 years for ex – serviceman upto the extent of service rendered in Defense Forces plus 03 years provided they have put in a minimum of 06 months service at a stretch, except Ex – servicemen who have already joined the Govt. Service on Civil side after availing of the Ex – servicemen status for the purpose of their engagement.
EDUCATIONAL QUALIFICATION:
Matriculation (Matriculate or 10th class in 10 + 2 examination system) from a recognized Board with minimum 50% marks in aggregate (excluding additional subjects) and an ITI Pass certificate (in the trade in which Apprenticeship is to be done) granted by the NCVT.
MEDICAL FITNESS:
A person shall be eligible for being trained under the Apprentices Act, 1961 and the Apprenticeship Rules, 1992, as amended from time to time, if he or she satisfies the minimum standards of physical fitness as prescribed in the aforesaid act and rules and the standards prescribed for imparting training to the relevant trade which will be certified by a Railway Medical Doctor.
APPLICATION FEES:
Application fees (non – refundable) – Rs.100 / – (Rupees One hundred only). No fee, however, is to be paid by the SC / ST / PWD / Women candidates. The payment of fees will have to be made online through 'Payment Gateway' while filling up the online Application Form. The payment can be made by using Debit Card / Credit Card / Internet Banking / e – Wallets, etc. Transaction charges for online payment, if any will be borne by the candidate. At times, there may be server issues because of huge rush, which may affect the online payment system. In such scenario, the candidate needs to log in fresh and attempt again.
HOW TO APPLY:
The candidates are required to apply ONLINE by visiting the link htpp: //appr-recruit.co.in on the official website of South Eastern Railway www.rrcser.co.in. They must go through the detailed instructions before filling up the online applications. All relevant items must be carefully filled up by the candidate himself. The particulars like the Name, Date of Birth, etc must match with the same that have been recorded in the Matriculation certificate.
For more Details read the official Notification below